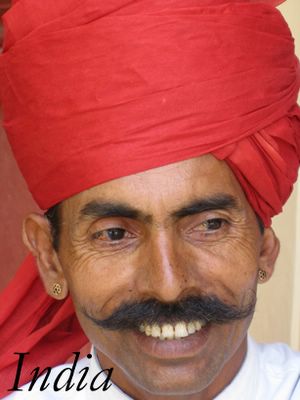 (
w
)
PHOTOS
and
VIDEOBLOG
India-Delhi
- Landed to
Delhi
Indira Ghandi Internation Airport after a very pleasant, four hours flight from Bangkok. First impression: heat blast, Swedish sauna. People are sleeping on the sidewalks. This place looked like a gipsy airport stuck in a sauna. Amazingly hot, humid, dirty and the outside street lights (or lack of) make it look I was walking on a movie set in Nabu.
I picked up my bags and decided to do the same thing as I did in Thailand, put one bag with a "left luggage" service. First I stopped by the local mobile telephone company to buy a SIM card for my phone. I found it to be very helpful to have a local phone number even if staying just a couple of days. The security officer on the airport pointed out to a barely lighted structure across the main parking lot. As I was walking out, I was approached my at least 30 people trying to sell me a ride to any destination.
I walked in to the building with no signs, with a single light bulb. No one was there. The only thing you could hear is a ceiling fan and the visibility was very limited as well. Behind the desk I've noticed a man sleeping on a bench. Flies were everywhere. One huge rat squeaked and run from one end of the room to another. I've seen some old dusty bags there but it did not appear as a left luggage service at all. As I turned around, two men walked in. They asked if they could help me with anything. I said I was looking for a left luggage service but I was probably at a wrong place.
They woke up the sleeping man behind the desk. He looked up very slowly and asked me what I wanted. At the same time many bad thoughts we going through my mind. What the hell was I thinking? Leave my bag in a place like this! No way. He said, this is left luggage service sir. How many bags do you want to leave with us? I wanted to get out and find my way back to the airport but I was very tired and decided to leave my heavy bag full of presents and other unnecessary items there. I had no lock on my bag as well.
In the background these three men spoke like they were fighting. I asked then where to look for a cab. Shortly there after, another man with mustache showed up out of the dark and said he was a taxi driver. He took my other bag and we walked to his cab. I am not even going to describe the mode of transportation this was. It would take a whole separate blog. Taxi this certainly was not.
My plan was to spend few days in Delhi, see the Red Fort then make my way to Agra (Taj Mahal) and Jaipur, the pink city). I was woken up by the taxi driver when he suddenly turned left from the main road to this dusty street in the middle of nowhere. Total darkens, no sounds, just occasional car passing by on the next street. The taxi driver quickly got out of the car and said he needed to talk to a man in the office to see the road conditions or something. I was getting nervous so I stepped out of the car, took my cell in one hand and a first rock I could find next to me. This smelled fishy to me. Next minute two men came out and approached the vehicle. I was on the other side. The car was between us. They saw my one hand with a cell phone making a dummy call. One man asked, "WHAT CAN I DO FOR YOU?" I looked at the driver, raised my voice and said, "JUST GET ME OUT OF HERE!" I will not pay you a rupee is we do not leave now. I was so angry and afraid at the same time.
Alone.
It was 3:30am. The man realized that I was aware of their scams and that I made enough noise that few houses turned their light on to see what was going on outside. My "taxi driver" got in and silently invited me back into the car. I was furious. He dropped me of at the city center,
Connaught Place
. All hotels were packed, so they say. Finally, one hour later I was so exhausted that I had to settle in another are of New Delhi. Believe me, there was nothing NEW about it.
Now I know why so many photographers take black and white pictures here. This place is so dusty, dirty and poor that b/w pictures come out the best. I guess. Beggars are everywhere. It was sad for me to see all this. I thought it would be different. I was expecting a culture more similar to Myanmar (Burma). I couldn't sleep that night. I was thinking how lucky I was in my life so far, or was I? The next morning I went to the main train station in Old Delhi and got myself a ticket to Agra. I was hoping to get out of this place as soon as possible. I wish I had a helicopter to film thousands of people on the station. It felt like I was in a movie filming trains on their way to concentration camps in Germany. The main difference was that these folks here had absolutely nothing on them. Nothing at all.
Train to Agra was two hours late but the station officials said that the train is late every day.
Agra
is about 6-7 hours by train from Delhi. The Taj Mahal was constructed by Emperor Shah Jahan in memory of his wife Mumtaz Mahal, whose death in childbirth in 1631 left the emperor so heartbroken that his hair is said to have turned grey overnight. His son imprisoned the emperor and later buried his father next to his wife inside the Taj. I stayed the entire morning and took few pictures. I am just amazed how such a magnificent palace can be built in the middle of nowhere. I mean, lets be real here. I would say, if you want to see it, fly directly to Agra and spend only one day there. Avoid traveling in India in summer time.
Next morning I was on my way to the pink city, Jaipur. While I was waiting for the train I've notices rail workers moving some rails in the middle of the day. I stepped down, took some photos and purchased drinks for the entire group. Cute little four years old girl was playing with me while I was waiting for the train. I bought her some street food and took some pics.
see the girl from agra album here
SEE other
PHOTOS
and
VIDEOBLOG
Jaipur
is the capital of Rajasthan state. It is known as the 'pink city' because of the Maharaja order in 1853. He wanted to honor British Prince Albert so he decided to paint all the walls pink. The Rajputs associate the color pink with hospitality. This was the best part of my travels in India. I've met few folks on the train to Jaipur and we went out sightseeing together. Unlike Agra, Jaipur is very colorful with Indian textiles one can see in the western worlds everywhere. Next day I went to see the cobra dance, textile factories and dinner in a local PIZZA HUT! The next thing was amazing.
beggar jaipur train station india
see the album here
PHOTOS
and
VIDEOBLOG
While walking on the street by the bazaar, I stumbled upon a old man selling cool rocks on the side of the road. If you know me you would notice that ware a big silver ring without a stone for years. I kneeled down, randomly put my hand on his little pile of rocks and picked up a peace that fitted perfectly into my ring. It was almost like an illusion, a true déjà vu. I gave the old man 200 rupees and walked away staring at my new ring. It was amazing.
On my way back to Delhi I've met a Spanish lady on her way to Delhi. She wanted to buy stones in Jaipur and resell in Spain. A Tibetan monk, her friend picked us up and helped me find a room for the night. Next morning I picked up my bags from the "left luggage" and I was no my way to
South Africa
.
PHOTOS
and
VIDEOBLOG
RSS Subscribe
austria
bosnia & h'govina
serbia & montenegro
-> serbia
-> montenegro
netherlands
namibia
mozambique
republic of south africa
india
thailand
australia
fiji
argentina
usa